Casa Tortuga is a luxurious two-story five bedroom villa on the beach in San Pedro, Ambergris Caye, Belize.

Casa Tortuga has 250 feet of beachfront and is surrounded by 73 coconut palms.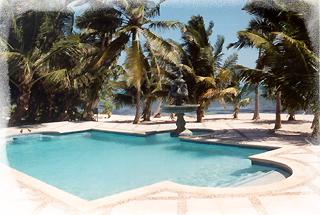 AMENITIES
Luxuriously furnished five bedroom, five bath villa
Longest private beach in San Pedro, 250' long
Largest private pool in Belize
Air conditioned
Internet Access
DVD and HDTV's in living room and each of the five bedrooms
8' High Bronze horse fountain from Versailles
30' High turret with french doors and balcony
Private dock where guides pick you up for activities
Canopy beds, furnished with accent on antiques
Excellent cook and staff who prepare delicious meals
Two sixty foot verandas with hammocks and dining
Weddings arranged
Guest House available for 2-4 guests
Snorkeling, Scuba, Fishing, Mayan ruins, Cave tubing
Our knowledgeable guide, Carlos, comes to the villa on the evening of your arrival to tell you about the water activities and excursions available
Beautiful gardens and 73 coconut palms

The villa is located 1 3/4 miles south of San Pedro, which takes six minutes by taxi van. Guides can pick you up at our dock for scuba diving, snorkeling, fishing and sightseeing. There are bicycles, golf carts, and taxis available for transportation. The taxi fare from the villa to town is $10.00 US dollars per van, which seats up to ten people.

The pale pink villa consists of 5,280 sq. ft. including 60 ft. verandas on both levels, facing the sea Located on the upper level are two large bedrooms, the living room, bar, 2 baths, large kitchen, and a dining area, as well as a dining area on the veranda.

Click for our Covid-19 Guest Information and FAQ Sheet.

The beach level includes three bedrooms, three baths, and a 60 ft. veranda on the waterfront. For smaller accommodations, click here for our Pelican's Nest Guest House.

We also have a giant chess set on our beach.  The king is three feet tall.   Enjoy a grand game of Chess under the palms!


The Casa Tortuga Villa fountain is from Versailles, France, and was created in 1789 of bronze.  The fountain is eight feet tall, and stands on a four foot high pedestal in an alcove in the pool at Casa Tortuga. 

The bronze horses and cherubs depict the Louis XV French style, which was prominent in France at the end of the seventeenth century. 

The fountain was originally puchased by Henry Flagler of Palm Beach, Florida in 1890, when it was brought from Versailles, France to Palm Beach.     
In 1994, the fountain was purchased by Peggy Mason in Florida and transported to Casa Tortuga Villa in San Pedro, Belize, where is  now resides.  If the bronze horses could talk, I am certain that their stories would be entertaining!

The pool is the largest private pool in Belize, measuring 38 feet long and 18 feet wide, plus an 8 1/2 foot wide circular alcove, which holds the 300 year old bronze horse fountain.


The living room has a white sectional sofa and a coffee table from India made from a wrought iron window designed to keep the monkeys at bay. The living room also has two sets of french doors opening onto the veranda. The antique walnut bar seats three at the front, and has a back bar with curved glass and shelving. The ceiling of the bar holds the stemware and lighting.
The dining table is oval glass with a brass base and white Parsons chairs. A large leafy chandelier with white shades light the dining area. Monkey candelabras and bougainvillea serve as a centerpiece.


The full kitchen is on the second level and it is where Maria and her assistant prepare your meal. All of the cabinets, doors and ceilings are mahogany. The kitchen has a table and seating for four. An 8 ft. tall antique walnut china cabinet contains the glassware and china service.

The upper level veranda is 60 ft. long, with Pawley Island double hammocks. There are six high back wicker chairs and sofa as well as three tables with Queen Anne chairs that can be joined for outdoor dining.
The master bedroom, the Tortuga Room, on the upper level has a king canopy bed. The closet doors are mirrored and the room is furnished in antique dark green Captain's furniture hand painted with clipper ships. This bedroom has two sets of french doors which open onto the veranda overlooking the Caribbean.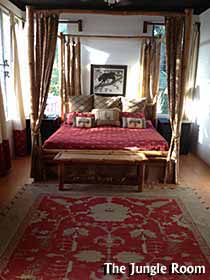 The upstairs Tortuga Room bath has a shower, bathtub, and an antique carved vanity from Germany, with a marble top. The gold sconces with silk shades provide excellent lighting, as well.
The Jungle Room is the second upper level bedroom which has an eight foot high king canopy bed. At one end of the room is a mantlepiece under a large carved mirror.
The Jungle Room has a bathroom in a turret, with an 18' high dome ceiling, and sixteen arched windows surrounding the top of the dome.This bathroom also has antique stained glass french doors opening onto a french wrought iron balcony, which overlooks the gardens.


The third bedroom is the lovely Palm Room. This is the largest bedroom at Casa Tortuga, which is 432 square feet. The king canopy bed is hand carved, as is the canopy daybed in the entrance hall. The mahogany day bed has carved monkeys, and was made in Guatemala over a hundred years ago. The 10' long altar table in the entry is from China, and made from a single tree. The open fretwork partitions between the entry and the bedroom are from Bali.


The dressing room includes a white damask sofa from England, under a large gold leaf mirror, flanked by gold monkey sconces.

The Palm Room bath is in a turret, with three diamond paned windows looking out onto the gardens.

The hand carved vanity is mahogany, under a large mirror and two Napoleon sconces. The ceiling is blue with gold stars around the large chandelier in the turret bathroom.


The second beach level bedroom is the Seabreeze Room, which opens onto the pool and beach beyond. The view of the Caribbean is lovely from this room. The headboard of the queen bed consists of a pair of antique carved wooden doors from the eleventh century. The two Louis XVI chairs are covered in a zebra print. The draperies for the eight foot high french doors are deep rose damask with tassel fringe.

The Seabreeze bathroom has a dressing room with the vanity in a chest and marble top. It is tan with cream wainscoating. The shower has tan and cream bas relief tiles from Portugal. The pool veranda has highback wicker chairs surrounding a cream granite coffee table.

The beach level has three additional bedrooms. The Maya Room opens directly onto the veranda and beach. The view of the turquoise Caribbean from the canopy bed is wonderful. This room is accented with Mayan artifacts and paintings of jaguars. There are more jaguars in Belize than in any other country in the world. They inhabit the rainforest on the mainland of Belize. The Maya Room bath has a tub and a shower.

In the villa, there is a plentiful supply of games in the bar, and volleyball is available as well. A set of horse shoes set up under the palms. The villa is also equipped with color Cable TV, a VCR, tape player, a DVD player, and CD player. To make long distance calls from the telephone at Casa Tortuga Villa, you will need to purchase a calling card on the island.


Activities in the area include snorkeling, scuba diving, fishing, sailing, windsurfing, parasailing, sea kayaking, jet skiing, and daily snorkel excursions to the nearby island of Caye Caulker on a skiff or catamaran. There are also boat trips to the ancient Mayan ruins of Altun Ha and Lamanai.
San Pedro is a quiet village with friendly English speaking inhabitants. Island law dictates that no buildings be taller than a palm tree, so fortunately, three stories is the maximum limit on the island.
The restaurants in San Pedro serve great food at average prices, although we believe that our staff at Casa Tortuga cook the most delicious food on the island!
The lobster in Belize is also excellent. The Belizeans on the island are happy, content people, and the atmosphere is delightful.



Our staff live on the property, and take excellent care of our guests. Daily maid service is included in the rent. Maria and her assistant prepare three meals per day for our guests. She will have regular or virgin piña coladas and appetizers for your arrival at the villa.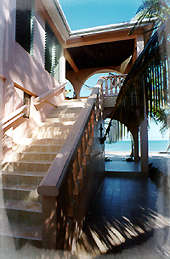 For your Arrival Dinner, Maria usually makes a delicious gourmet Belizean meal.
You may choose to bring gourmet coffee with you. There is a $400 deposit for the initial groceries for the first few meals.


After your arrival, you can plan the other meals with the cook. Groceries cost about $25 per day per person. You can give Maria cash for the additional groceries after you arrive.
The fee schedule for the cook and assistants is as follows.

Daily Rate
1-2 guests: $50 per day.
3-5 guests: $70 per day.
6-10 guests: $100 per day.

Each guest over the amount of ten is $10.00 per day per person.

All travelers must have a valid passport to enter Belize, including children. The passport must be valid for six months after your return date, also.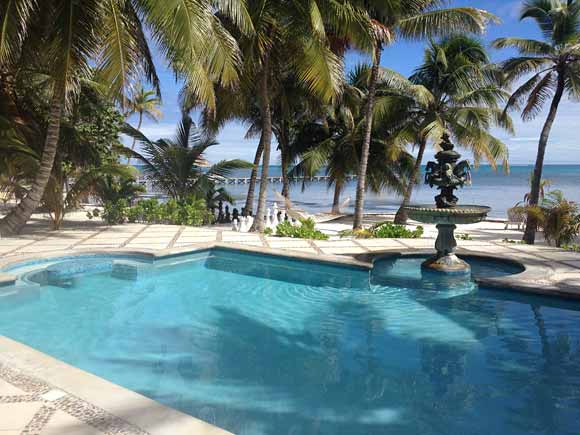 NIGHTLY RATES
2022 - 2023
Casa Tortuga Villa includes five magnificently furnished bedrooms with canopy beds, five large baths, living room, dining room, kitchen, bar, two sixty foot long verandas with luxurious seating and dining, and a thirty foot tall turret.
The Pelican's Nest Guest House includes one bedroom with a king canopy bed, bath with jacuzzi, living room with a queen sofa bed, kitchen dining area, two balconies, large roof garden, and second roof, Pelican's Peak, for viewing wildlife and sunsets.
Accommodation
SUMMER
FALL
WINTER
PEAK
May 14, 2022 - Aug 26, 2023
Aug 27, 2022 - Nov 18, 2022
Nov 19, 2022 - May 19, 2023
Dec 19, 2023 to January 2, 2024
CASA TORTUGA
5 BEDROOM VILLA
$1,595 per night
$1,395 per night
$1,795 per night
$2,195 per night
THE PELICAN'S NEST
GUEST HOUSE
$275 per night
$225 per night
$375 per night
$495 per night
Payment Options
1. Pay by Zelle to account # 970-274-8383
2. Pay by PayPal to account # casatortugavilla@yahoo.com
3. Wire funds to Well Fargo account. Contact me for wiring instructions.

Rates include daily maid service.

Rates are subject to a 9% government room tax and a 10% service charge for W.A.S.A. and B.E.L. services.

The staff at Casa Tortuga prepare three meals per day for our guests for a fee of $35-$100 per day, depending on the number of guests.


Photos above and to the right are clickable for larger versions.

Rental Payment Schedule:
The five fees are:
1. Rent
2. 9% Government Room Tax
3. 10% WASA/B.E.L
4. Fee for Cook & Assistants
5. Grocery deposit of $400.

One half of the total of the five fees is due 7 days after the reservation is made.
The final half is due 60 days before arrival.
I can send a tentative invoice you for your dates and number of guests.

Cancellation Policy:
If a cancellation is made 90 days before arrival, all except 10% will be refunded. If a cancellation is made less than 90 days before arrival date, all except 10% will be refunded, if the villa can be rebooked.



ACTIVITIES AND EXCURSIONS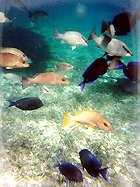 SNORKELING
Guides can pick you up at our pier for snorkeling to the reef. The morning trips usually begin at 9AM and return around 11:30 AM. The afternoon trips are from about 2 until 4:30 PM. The trip makes two snorkel stops. Carlos is an excellent guide, since he helps beginners get acquainted with their gear, as well as others who may have not snorkeled recently. Carlos points out exotic fish hiding among the rocks and coral, that may otherwise go unnoticed. Although snorkel fins, mask and snorkel may be rented, it is better to bring these items with you, since there is a rental fee.

SCUBA DIVING
We have a staff of good scuba guides. You can rent all of your scuba gear at dive shops nearby. There is a dive boat that makes a day trip with three scuba stops, including the Blue Hole, Turneffe Island and the red footed Booby Bird Sanctuary. This dive trip picks up our guests at our pier about 6:30 AM, serves continental breakfast on board, a well as lunch and returns about 4:30 PM.

FISHING
Fishing in Belize is excellent! It is good to go early during your visit, so that you can enjoy all of the snapper, grouper, etc. that you have caught. Our cook has many delicious recipes for the fish.

EXCURSIONS
CAYE CAULKER
Caye Caulker is seven miles away and is noted for its' lobster fishing. There are good photo opportunities there, since it is more primitive than San Pedro, with authentic Caribbean style houses. Many of the houses are brightly painted, with yellow walls, blue shutters, red roofs, etc. The flowers are also abundant, and there are lobster traps stacked high around the island. Carlos is a good guide to Caye Caulker. He makes a snorkel stop at Coral Gardens on the way over, and at Shark Ray Alley on the way home. (The sharks in Belize are nurse sharks, and are completely harmless). Carlos usually finds dolphins on the bay side of Caye Caulker for viewing also.
CAVE TUBING AND ZIPLINING
Available through Carlos. It is an adventure you will always remember! So fun!
ALTUN HA & LAMANAI MAYAN RUIN
Available through Carlos.
We certainly hope Casa Tortuga Villa meets all of your accommodation requirements and highest expectations for a wonderful vacation!



For more information contact:
Peggy Mason
Email casatortugavilla@yahoo.com
P.O. Box 4044
Aspen Colorado 81612

Phone: 970-274-8383